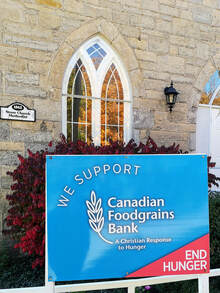 Stone United Church embarked on the second year of a Foodgrains Growing Project with strong participation from Rockwood and Barrie Hill United Churches. A pumpkin growing competition was featured again this year with over 30 families participating. The project wrapped up on October 17 with more than 25 pumpkins weighed, judged, measured, or dissected (to determine it was a legitimate pumpkin). The Benham family of Brian, Sarah, Flora and Hazel from Barrie Hill Church won the trophy for the heaviest pumpkin, weighing in at 150 pounds. Honourable mention went to Heidi Smits from Stone for the smallest pumpkin. Murray Oliver won for the longest pumpkin, Marcia Haworth for the best decorated and Lisa Leffler for the best carved. Thank you to all participants for a fun pumpkin challenge.
COVID-19 has resulted in an increase in the people, globally who are experiencing food insecurity. The Canadian Foodgrains Bank has been providing strong leadership and much needed funds in responding to this crisis.
The Stone United Church Project netted more than $7,500. This is $300 more than raised through last year's project. An amazing accomplishment given the challenges faced in 2020. Every dollar raised is matched by the federal government 3:1 for a total of $30,000 from our project. Thank you to all our generous donors who helped make this year's project a tremendous success.